with the B2B-subscription offerings from topi, your business customers have easy access to your IT equipment. And they'll thank you for it with more conversions, bigger shopping carts, and thus higher revenue. All of that in just two words? Win-win.
Are you an electronics retailer?
Our initial offering: renting electronics with topi.
With topi, your business customers can conveniently rent rather than buy, while you still get paid upfront. Depending on the device, rental periods range from 12 to 36 months. At the end of the rental period, your business customers can choose whether they would like to upgrade, purchase, or simply return the device.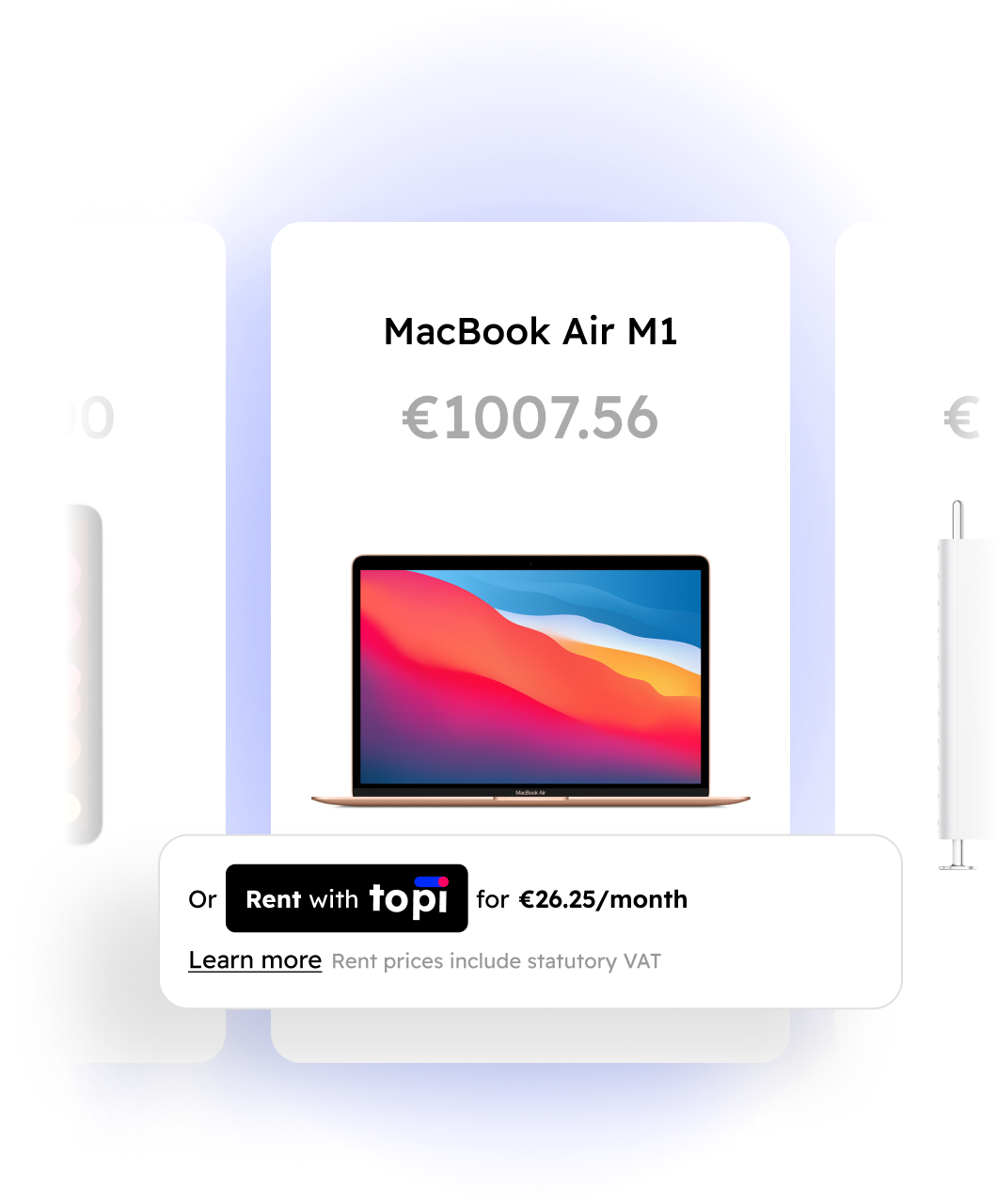 Everything runs very seamlessly through our plug-and-play solution.
You deliver the products in the usual way while we take care of all the finances. You will always receive your money immediately, and never have to worry about any default or fraud risk.
Modular API integration
You can integrate rentals with topi quickly and easily into your existing systems and processes and use them anywhere.
Our cloud solution is secure, expandable at any time and always up to date. Of course, we accompany you throughout the entire integration process and are always there for you if you have any questions.
Fully digital risk check in real-time
Our state-of-the-art decision engine delivers industry-leading acceptance rates in real-time, while keeping fraud and default risk to a minimum.
Available for every sales channel: the
omnichannel advantage
No matter whether they call, visit your website, or come into your stores in person – your business customers are always just a few clicks away from renting with topi. A short registration followed by topi's real-time risk check is all it takes.
Telesales
Your telesales staff can easily offer business customers the opportunity to rent with topi as part of their sales call – then send them the topi quote via email.
E-Commerce
Your business customers select the products they want from your website as usual. On their way to the virtual checkout, they can select the option to rent with topi – then complete the checkout on the topi website after going through the quick and easy registration process.
Point of Sale
Your in-store sales staff can offer renting with topi via tablet. Customers can enter their details using the tablet and complete the transaction right there in the store. 
Good for the planet, good for you.
We pass products on to our sustainable trade-in partner when they're returned at the end of their rental period. It's all about the circular economy. Rather than languishing in some drawer, they'll be reused or properly recycled elsewhere. This reduces resource consumption and e-waste while saving the customer money. And as the retailer, you benefit again when you sell the upgrade.
Let's keep it simple: The advantages of renting your products with topi at a glance.
Benefits for you as a business customer:
More room in their budget through convenient monthly payments
Lower costs during the overall useful life through inclusion of the residual value
Rental payments are 100% deductible operational expenses
Regular upgrades with brand new equipment – and no more old tech lying around in drawers
Benefits for you as a retailer:
Capturing new revenue streams
Easy integration into all B2B sales channels
Fast and guaranteed payments without default risk
Entire product catalogue supported
Secure and fully digital processes without paperwork
Higher conversion. Bigger shopping carts. Higher revenue.
Access to new customer groups
Higher customer retention
An important detail:
Our operating system for hardware subscriptions is designed to enable businesses' transition from ownership to Hardware-as-a-Service. We have no desire to become a retailer ourselves. Our job is to enable you.
Intrigued by our offering? Book a demo.

We'd love to explain the many ways you can make your business customers happy.
Are you a retailer, just not for electronics?
Join our waitlist now
Do you have questions?
Take a look at our FAQs:
How does topi work?
It's actually very simple. We provide you with an easy-to-integrate operational system for your checkout process. Your business customers can choose to rent or buy each individual product in their shopping cart. You receive your money immediately – while we take care of everything related to the rental. All this is sorted in just a few steps. Take a look at Our Solutions page for the full download on how it works, or book a demo with us where we'll be happy to explain everything.
Why should you as a retailer offer rentals with topi?
In short: it will make your business customers happy. And they'll make you happy in return. More specifically, our solutions give your business customers much easier access to your offerings. By increasing your business customers' liquidity, you'll see higher conversions, bigger shopping carts, and higher revenue. And that's all without any added default risk.
What changes for you as a retailer?
Apart from the fact that we take a lot of work off your hands, while almost certainly increasing your revenue, not much. There's no risk of default or fraud because you always get paid immediately. You just send out the products to your business customers as usual, while we take care of the finances.
Your question isn't answered? Feel free to send us a message and we will try to get back to you as soon as possible.
Write us now >>